By The Jakarta Post
Asia News Network
Authorities have begun search and rescue (SAR) operations for the passengers and crew of Lion Air flight JT610, which went missing on Monday morning en route from Jakarta to Pangkalpinang in Bangka Belitung.
The Lion Air flight lost contact with air traffic controllers at 6:33 a.m., shortly after it took off at 6:20 a.m.from Jakarta's Soekarno-Hatta International Airport.
The plane, which reportedly carried two pilots, six crew members and 181 passengers, including two children and one infant, reportedly crashed 7 miles north off the coast of Tanjung Bungin in Karawang, West Java.
"We are certain that the plane crashed into the sea and is submerged at a depth of 30 to 35 meters," National Search and Rescue Agency (Basarnas) head M. Syaugi told a press conference on Monday.
"We have located the debris about 2 nautical miles [3.7 kilometers] south of where contact with the plane was lost," he said.
Syaugi said that 130 Basarnas personnel had been deployed from Jakarta and West Java's Bandung and Cirebon, as well as other areas. Thirty Basarnas Special Group (BSG) personnel had also been deployed to the debris site.
Bandung SAR spokesperson Joshua Banjarnahor said that a team comprising SAR members and divers from Bandung and Cirebon had been deployed on Rescue Boat 2016.
"Ninety personnel have been prepared to assist in the rescue efforts," Joshua said. "Rescue Boat 2016 has set sail."
National Transportation Safety Commission (KNKT) head Soerjanto Tjahjono said that the Boeing 737 Max 8 aircraft that flew under flight number JT610 commenced operations under Lion Air in August and had a total 800 flight hours.
Soerjanto said the Basarnas team was looking for the black box to determine the cause of the crash.
The Basarnas also sent an underwater remotely operated vehicle (ROV) to search for passengers and crew.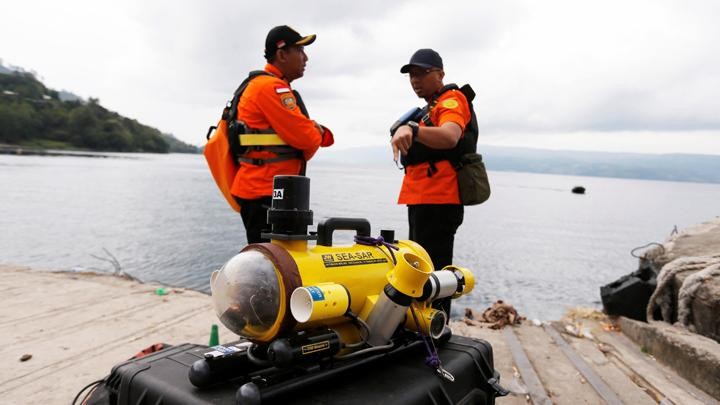 The Basarnas also sent an underwater remotely operated vehicle (ROV) to search for passengers and crew. (Courtesy of Basarnas/-)
Recent photographs from Basarnas show that the team had recovered parts of the plane and several ID cards, presumably belonging to the plane's passengers.
Government officials are reportedly among the passengers aboard the missing aircraft.
Finance Ministry spokesperson Nufransa Wira Sakti confirmed that 20 ministry officials, including staffers of the State Assets and Auction Services (KPKNL) and the State Treasury Services Office (KPPN), were among the 178 adult passengers on the aircraft.
"We are still confirming data on the names against the flight manifest," Nufransa said on Monday.