A regional response on the coronavirus disease outbreak has come under the spotlight as Southeast Asia scrambles to prevent the wider transmission of COVID-19, which has reached eight out of 10 ASEAN member states.
The World Health Organization on Tuesday called on countries in the Southeast Asia region to urgently scale up aggressive measures to combat COVID-19, as the number of cases continues to rise globally. The virus, which was first detected in China, spread rapidly to 152 countries and territories, infecting nearly 175,000 people and killing 7,019.
"The situation is evolving rapidly. We need to immediately scale up all efforts to prevent the virus from infecting more people," said Poonam Khetrapal Singh, director of the WHO South-East Asia Regional Office (SEARO).
"Urgent and aggressive measures are the need of the hour. We need to act now," the WHO official said in a statement.
Eight of the 11 countries grouped under WHO-SEARO have confirmed cases of COVID-19, and numbers are increasing quickly Khetrapal Singh said.
Indonesia leads the ASEAN countries with 19 deaths out of 227 cases for a death rate of 8.37 percent. The Philippines was second with 14 fatalities out of 187 cases or 7.49 percent.
Despite having more cases at 673, so far Malaysia has reported only two fatalities, or 0.30 percent, while Thailand has reported one death from 177 cases, or 0.56 percent.
Only Laos and Myanmar have no reported confirmed cases, with other member states not having any fatalities yet.
Indonesia and Thailand are grouped under WHO-SEARO while other ASEAN member states are under WHO West Pacific Regional Office (WPRO).
The WHO-SEARO director's comments signaled much greater urgency than when WHO-WPRO director Takeshi Kasai said last month that it was "time for us to work together and focus not only what confronts us today, but plan for tomorrow".
Concerns have grown following a spike of new cases originating from a mass religious event held from Feb. 27 to March 1 in Kuala Lumpur, Malaysia, which many other people from the region attended, especially from neighboring countries.
The tabligh event, a large-scale Quranic recitation event often accompanied by preaching, was attended by some 14,500 Malaysians and about 1,500 foreigners, including 696 Indonesians, 215 Filipinos, 130 Vietnamese, 90 Singaporeans, 79 Cambodians and 74 Bruneians, The Straits Times reports.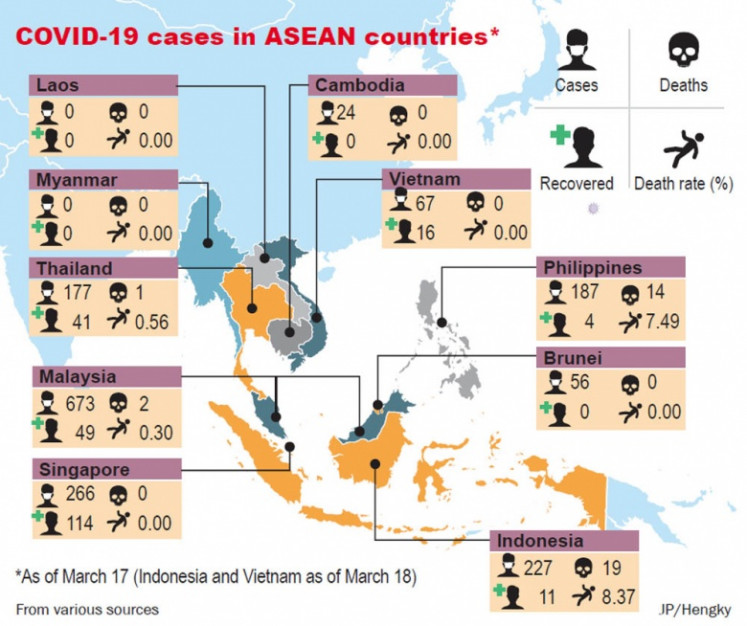 At least three Indonesians tested positive in Malaysia after attending the event. Meanwhile, Brunei's Health Ministry said that most of the country's confirmed COVID-19 patients were linked to the gathering, while Cambodia reported Tuesday that 11 out of the 12 new infected cases had a history of travel to Malaysia.
Authorities are also tracking Malaysians who attended the event, encouraging them to report themselves to the authorities in their respective states for testing, according to local reports.
When asked recently about the possibility of hundreds of Indonesians being exposed to the virus in Malaysia, President Joko "Jokowi" Widodo said that his quick response team would investigate the new cluster.
"Our team will look into it and will be assisted by the BIN [State Intelligence Agency], the National Police and the Indonesian Military," Jokowi said on the sidelines of a visit to Soekarno-Hatta International Airport on Friday.
Elsewhere, the battle to contain the virus among countries has been mired in unproductive quarrels among neighbors.
Indonesia and Singapore have tussled about the sharing of information on imported COVID-19 cases and other logistics requirements, which began when a health official from the Indonesian side accused Singapore of withholding important information for tracing infected persons, which the city-state and other Indonesian officials refuted.
Jokowi said on Monday that he had spoken with Singaporean Prime Minister Lee Hsien Loong, although he did not elaborate. "Singapore has helped us a lot. I don't remember how much but it was quite a lot. So if they want to help, we will accept," the President said.
A spokesperson for Singapore's Foreign Ministry later revealed more details about the phone call, saying that the leaders agreed to further strengthen cooperation to counter the virus threat.
"Singapore has been in close touch with the relevant Indonesian ministries and agencies on the COVID-19 situation, including on the provision of medical equipment to Indonesia. The Singapore government has also contributed personal protective equipment to the Batam Health Office at its request," the spokesperson said.
And while Indonesia takes cautious steps to address the pandemic, Malaysia became the first country to announce a two-week lockdown of the country, days after the Philippines moved to shutter its capital Manila and later the entire island of Luzon. Laos has sealed its borders with China and Myanmar, while people in Brunei, Singapore and Thailand have been ordered to restrict their movements.
These incidents, as well as the different policy decisions that ASEAN countries have made in response to the pandemic, have served to underline the discrepancy between neighboring countries and cast doubt on the feasibility of a united regional response, despite the group already having several response mechanisms in place.
ASEAN countries met as early as January to prepare a region-wide response to the rapid spread of the coronavirus disease and continue to meet to evaluate the regional response.
The Indonesian Foreign Ministry's director general for ASEAN affairs, Jose Tavares, said the bloc had a communication hotline on COVID-19 in place that "could be initiated when necessary".
According to the ASEAN post-2015 health development agenda, there are at least seven mechanisms designed to support regional preparedness and response by ASEAN and its Plus Three partners China, Japan and South Korea.
According to a paper on "ASEAN health sector preparedness and response actions to COVID-19 outbreak" that was obtained by The Jakarta Post, the regional health sector was able to mobilize existing initiatives such as the Regional Public Health Laboratories Network (PHLN) and the ASEAN Emergency Operations Center Network (ASEAN EOC Network) for public health emergencies.
"As soon as the first report of clusters of unexplained pneumonia from [China's] focal point for the Senior Officials Meeting for Health Development [SOMHD] was received on Jan. 3, 2020, the ASEAN health sector together with counterparts from China, Japan and [South] Korea launched regional preparedness and response actions through the mobilization of existing regional health cooperation mechanisms," ASEAN officials stated in the paper.
Meanwhile, other partners have also expressed an interest in sharing information and enacting cooperation through ASEAN, such as the European Union and the United States, Jose added.
"I think we have used all the available channels," the official said on Tuesday. (tjs)