Picture an idyllic, pristine beach with the sound of waves crashing amid the last rays of sunlight, and you've got an image of Phuket Island's majestic shores.
While the sandy beaches of Phuket are known to travelers across the globe — a major contributor to the local hospitality industry — the island's inhabitants are struggling with their home's popularity.
Sustainability has become the key word to their survival in the face of mass tourism for many in the tourist and hospitality industry, including Phuket's myriad of hotels and resorts. Thus, the Phuket Hotels for Island Sustaining Tourism (PHIST) forum was born.
Held at the JW Marriott Phuket resort on the scenic Mai Khao Beach on Sept. 24, the forum gathered more than 600 delegates from across Southeast Asia to discuss sustainable and environmentally friendly forms of tourism and travel.
The president of Phuket Hotels Association, Anthony Lark, said the forum was the association's first event on sustainable actions pertaining to the environment.
"I arrived in Phuket 31 years ago in the late 80s. In those days, Phuket was a sleepy, quiet, more serene environment, where places like Surin Beach and Bangtao Beach were deserted, pristine and clear," Lark said.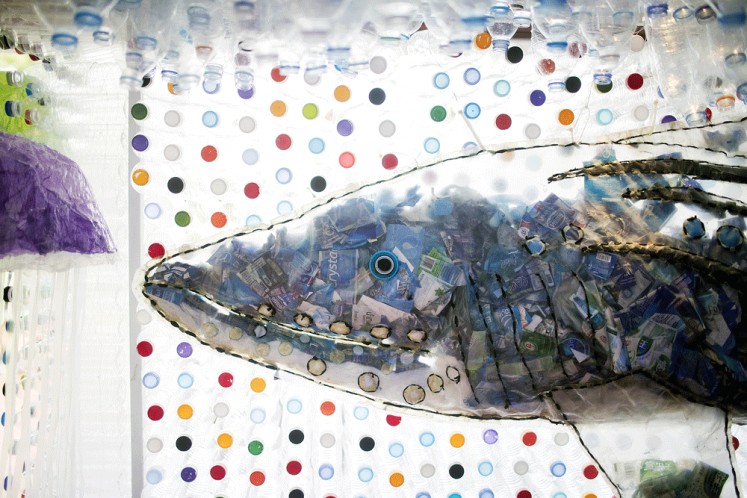 Life in plastic: The issue of plastic usage and waste still dominates the PHIST forum. (Courtesy of Delivering Asia Communications/-)
"You would go fishing and you'd see beautiful fish looking out the water, turtles laying eggs on all the beaches, and nobody ever put it in the newspaper; it was just the norm."
Lark explained that the growth of tourism and the population had transformed Phuket into an urban resort in many places across the island and had brought environmental issues to the surface such as plastic usage.
Plastic usage has been a contentious issue for many environmental groups all over the world, but the effects are felt much more strongly in places where pristine white sands and clear oceans are selling points.
In September, it was reported that 23 sea turtles on Hat Mai Khao in Phuket's Sirinat National Park and Thaimueang Beach in Lampi-Hat Thaimueang National Park in Phangnga had been found dead or near-death over the course of two months due to being trapped by floating garbage.
At the same time, Maya Bay on Thailand's Ko Phi Phi Leh Island — made famous by Leonardi DiCaprio's 2000 movie The Beach — will be closed indefinitely to allow recovery from extensive environmental damage blamed on tourists. With up to 5,000 tourists and 200 boats a day, an estimated 80 percent of coral around Maya Bay has been destroyed by pollution.
The problem of excessive tourism had not been found in Thailand alone, as the holiday island of Boracay in the Philippines was also closed to tourists for six months starting April 26 under the orders of President Rodrigo Duterte, who once described the island as a "cesspool".
Meanwhile, Indonesia's government in June even went so far as to cooperate with Muslim clerics from the country's two largest Muslim organizations, Nahdlatul Ulama and Muhammadiyah, to tackle consumer behavior with regard to single-use plastic bags, given that Indonesia was named the second-largest source of marine plastic waste in a 2015 study in the journal Science.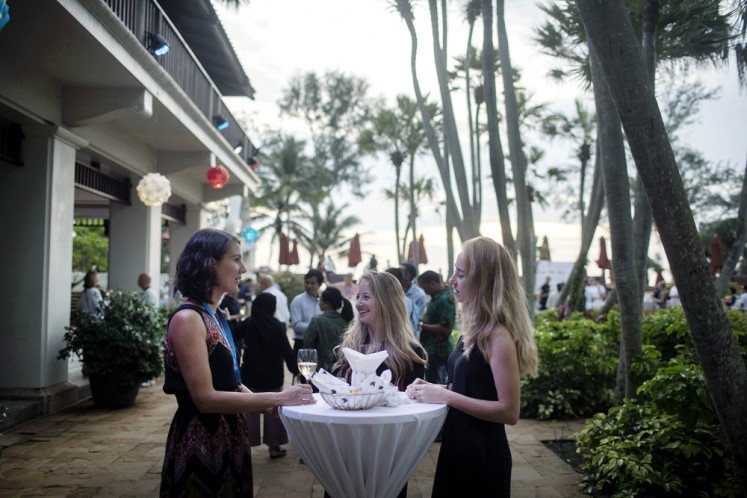 Sunset cocktail: PHIST 2018 was held in the JW Marriott, located on Mai Khao Beach. (Courtesy of Delivering Asia Communications/-)
A 2017 report by The Economist Intelligence Unit on sustainable tourism in 10 countries — France, Germany, the United Kingdom, the United States, Japan, India, Brazil, China, Indonesia, Egypt — found that Indonesia ranked number nine with an overall index score of 27.1 out of 100, with an average of 46.3.
Six Senses Hotels Resorts and Spas president Bernhard Bohnenberger said he believed that the key to changing consumer behavior was to make sustainability an aspiration goal, rather than going the way of banning.
"Education is hugely important, but not like 'you should not do this, you must not do that'. I think we have to make this whole fight for sustainability fun, enjoyable, fashionable, so that people go in with their heart," Bohnenberger said, providing an example in using cotton tote bags rather than single-use carrier bags.
Thai Hotels Association vice president and environmental chair Marisa Sukosol Nunbhakdi echoed the sentiment, but noted that policymakers should also be educated as well.
"The people who run our governments should be educated. A lot of them, judging from the decisions that have been made, maybe don't understand what sustainability really is, or the importance of sustainability," Nunbhakdi said.
While the issue of plastic usage dominated the forum, other topics relating to sustainability were also discussed.
Eric Ricaurte, founder of Singapore-based sustainability firm Greenview, outlined three main issues in mass tourism; displaced tourists, overcrowding and the backlash from the impacts caused by tourists.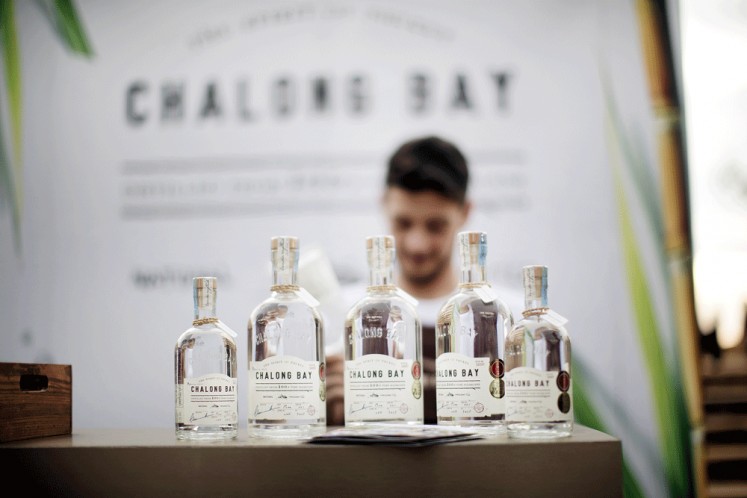 On display: As well as discussions, PHIST also showcased products and services from local initiatives. (Courtesy of Delivering Asia Communications/-)
"First is tourists entering neighborhoods where they shouldn't be, in residential neighborhoods and residential buildings. I'm a resident and we have too many AirBnB places in my building, and that also drives up rent," Ricaurte said.
"Second, [there are] too many tourists. You see this in Phuket, Japan and Korea. The third is the backlash from the impacts caused. This is what we saw in Boracay, too many tourists in small destinations without the resident's input."
According to Ricaurte, the issues can come down to a single problem, in that "destination stakeholders not realizing the broader impacts of the individual activities of the business and private sector and the public sector".
While PHIST in its first year delivers some interesting insights into sustainability on an industry level, it remains to be seen whether other locations will take up the discussion. However, Lark is confident that the timing is right for the forum to be held.
"The time is now, the time should have been yesterday, and it's certainly not tomorrow. We truly believe that global science that recognizes the theory that people and animals are in trouble, and that we've got to do something."