PENANG — As Asia's waste problem grows, countries and organisations around the region are searching for solutions to manage the situation.
However, incineration is not the right answer. Asian countries must shift away from incinerators and start to look for zero waste solutions, said Mohideen Abdul Kader, president of the Consumers' Association of Penang at the International Zero Waste Cities Conference 2019.
Hundreds of local government officials and non-Government organisations in Asia are gathering on Monday and Tuesday in Penang, Malaysia, to showcase solutions and discuss policies that will help bring an end to plastic pollution and usher in sustainable, 'Zero Waste Cities' in the region.
The zero-waste approach addresses waste and resources throughout their entire lifecycle – from production to end-of-life – with the goal of waste prevention and resource conservation.
According to Kader, Malaysian producers release 30,000 tonnes of waste per day but only 5 per cent of it is recycled. Recycling plants have tried to recycle this waste but the problem remains.
"The root cause of waste is overconsumption. Hyper consumption leads to economic crisis," he said, calling for regional governments, civil society and communities to cut down on consumption and keep to the sustainable development agenda.
Emphasising the value of the zero waste approach, Froilan Grate, regional co-ordinator of the Global Alliance for Incinerator Alternatives (GAIA) Asia Pacific said: "Cities and communities have a role in addressing the plastic pollution crisis. By implementing zero waste programmes, we are able to prevent the leakage of waste, particularly problematic plastics, into the environment.
"Experiences in our Zero Waste communities show that through at-source segregation, decentralised collection, and management of organics, we are able to reduce the volume of waste that cities need to address."
Delegates at the event said that Asia has become the world's dumping ground, arising from developed countries exporting their plastic problems.
"Southeast Asian countries have produced enough waste that we cannot handle and we do not allow developed countries to export waste," Kader said.
Several local governments in Asia are pioneering zero waste programmes through cost-effective investments in decentralised waste collection, composting, recycling markets, and waste management infrastructure.
Sixteen cities from Indonesia, the Philippines, Malaysia and India have signed up for the Zero Waste Cities project of GAIA to cut down on plastic pollution. They expect more cities in the region will join the network.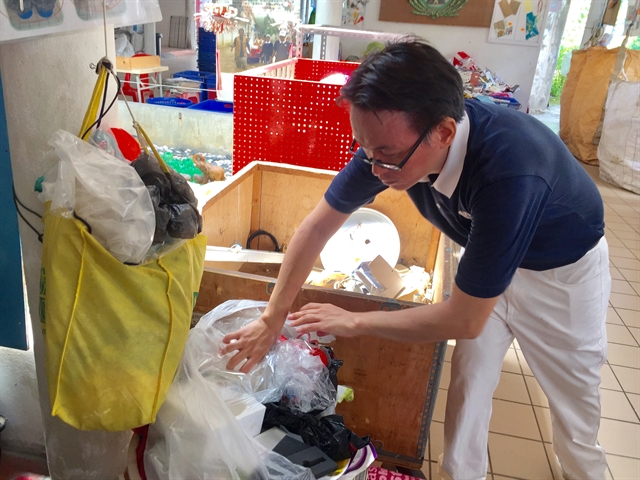 Experiences of these Asian cities have shown that as long as the right strategies are in place, cities can set up zero waste systems that will enable successful implementation within a period of one year, while also achieving significant savings in waste management costs.
San Fernando City in Pampanga in the Philippines, for example, is implementing waste segregation, as well as a strict and effective plastic bag ban.
Edwin Santiago, the city's mayor, said: "With strong political will and stakeholder engagement, our city has realised the benefits of zero waste, like reduced waste generation, a cleaner environment and savings for the city. But we're not stopping here, we also have policies like our plastic bag bans that will further reduce our residual waste."
Đoàn Thị Kim Anh, head of the General Division at Đà Nẵng City's Environmental Protection Agency, said Đà Nẵng would like to learn from zero waste models of these cities with solutions such as reducing overconsumption and food waste.
To reach the target of cutting 12 per cent of the city's waste by 2020 and 15 per cent by 2025, the city has reduced single-use plastic at meetings of local authorities. Hotels, restaurants, trade centres and supermarkets have replaced plastic straws with paper ones.
At-source waste segregation is being piloted in two wards of the city where residents segregate their waste at home and an environmental company will come to collect it twice a week, she told Việt Nam News.
The International Zero Waste Cities Conference, the third of its kind after those in Manila, Philippines and Bandung, Indonesia, is part of several collaborative dialogues among local government officials in the Asia Pacific region to share experiences on zero waste implementation strategies. — VNS