Thousands flee as floods hit Jakarta, Depok, Tangerang
Greater Jakarta was once again struck by floods on Friday morning, causing heavy traffic and forcing thousands of residents to leave their homes.
Seventeen neighborhoods across the capital were submerged after the Ciliwung River overflowed due to heavy rainfall. More than 1,500 people have evacuated the areas so far.
Meanwhile, in Tangerang, Banten, overflow from the Cisadane River inundated residential areas, school buildings, offices and vehicles in 1-meter-deep water across Panunggangan Barat subdistrict.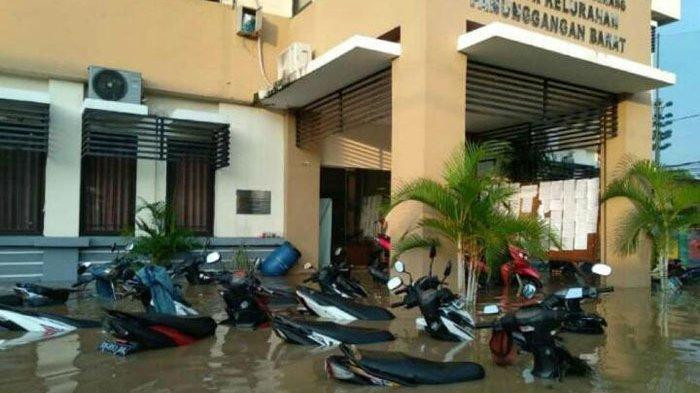 Motorcycles are submerged in flood water in front of Panunggangan Barat subdistrict office in Tangerang, Banten, on April 26. (Warta Kota/Istimewa)
According to the Jakarta Disaster Mitigation Agency (BPBD), floods mostly struck areas in South and East Jakarta, namely in community units (RW) located in Lenteng Agung, Pengadegan, Srengseng Sawah and Rajawati in South Jakarta, as well as Cawang, Bidara Cina, Balekambang and Kampung Melayu in the east.
At least 450 people have fled their homes in Cawang and 1,147 in the neighboring area of Cililitan, kompas.com reported.
Floods have also caused severe congestion around Jl. Raya Kalibata in South Jakarta, where flood victims crowded the shoulder of the road and parked their cars there.
Flooding in the Kalibata area also triggered severe traffic on Jl. Dewi Sartika, Jl. Raya Condet and Jl. Raya Bogor.
"It's insane. It took me up to two hours to get from Depok to PGC in Cililitan. Normally, traffic is not that bad," said Bima, a resident of Depok, West Java.
Police personnel were deployed at certain crossroads to help manage the flow of traffic.
"Road users who want to go to Kalibata Raya are urged to avoid Jl. Dewi Sartika due to the traffic jam caused by floods," BPBD Jakarta said via its Twitter account @BPBDJakarta.
Meanwhile, a number of settlements on the banks of Ciliwung River in Depok were also inundated, including Pasir Gunung Selatan in Cimanggis subdistrict.
Asep Suwandi, a resident of Pasir Gunung Selatan, said that at least 15 families had been affected by the overflowing Ciliwung River.
He added that flooding started at around 1 a.m. in the area, with water levels reaching between 50 and 100 centimeters deep. The flood receded at around 6 a.m.
Some residents were able to save a few of their belongings before leaving the area.
"I was only able to save a few items because BPBD Jakarta was telling us to go," he said.